Is East Palestine's Water Safe to Drink After the Ohio Train Derailment?
On Feb. 3, 2023, a freight train carrying various chemical compounds rumbled through East Palestine, Ohio. The train's deafening horn echoed through the small industrial town, alerting residents of its imminent arrival. But no one could have predicted the disaster that was about to unfold.
Without warning, the train hurled off its tracks and spilled a barrage of toxic chemicals onto the surrounding soil and into nearby waterways. Flames erupted from the overturned cars, engulfing the area in a fiery blaze. Fearful of an explosion, emergency responders purposefully released and burned off the contents of five derailed tankers, sending a plume of black smoke over the town.
As news of the incident spread, questions started flooding in from advocates and residents: What exactly were these chemicals, and just how dangerous were they? How would they impact the local drinking water supply, and what kind of long-term environmental damage could they do? This article explains everything we know thus far and will be updated as more information becomes available.
What chemicals were spilled and released, and how dangerous are they?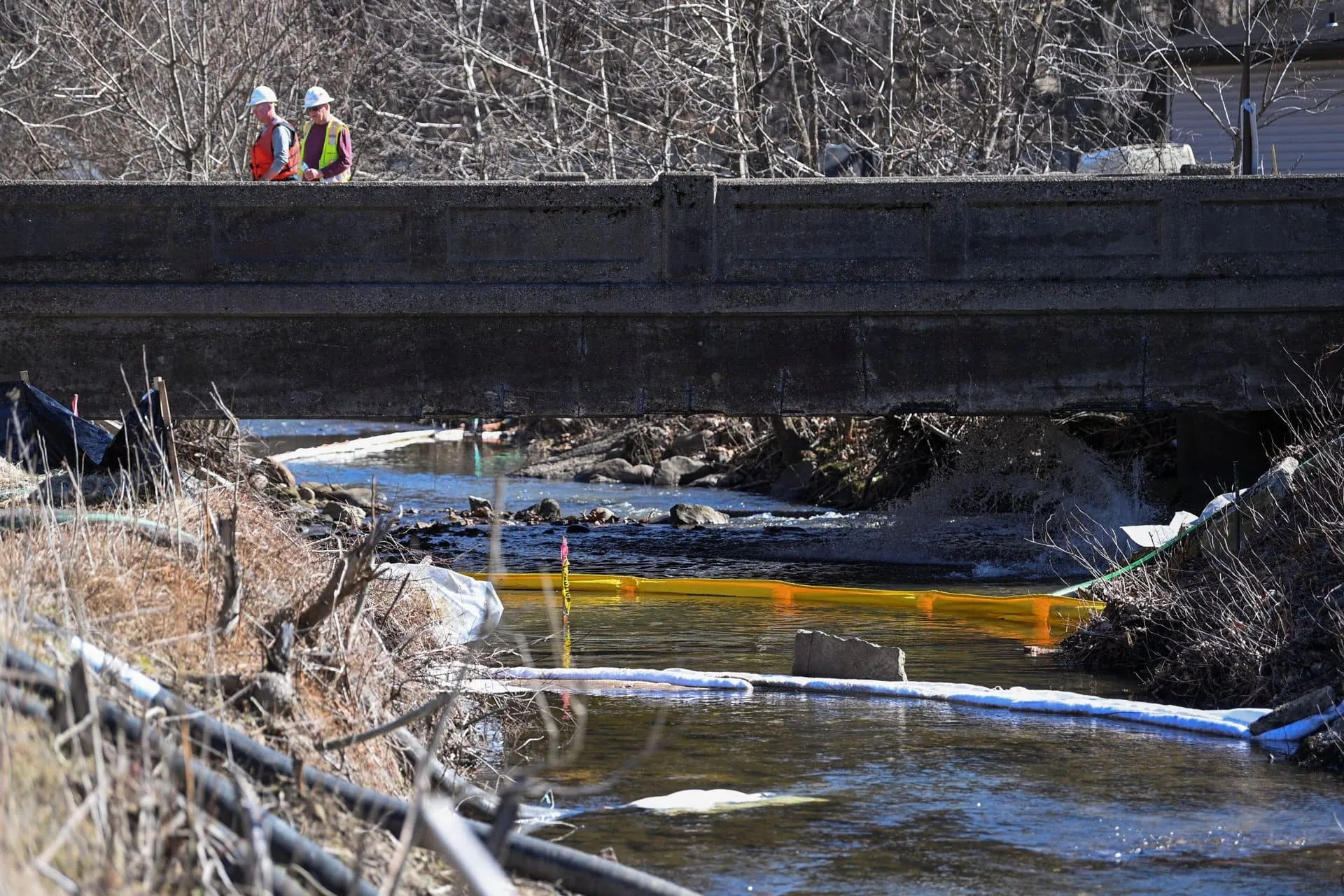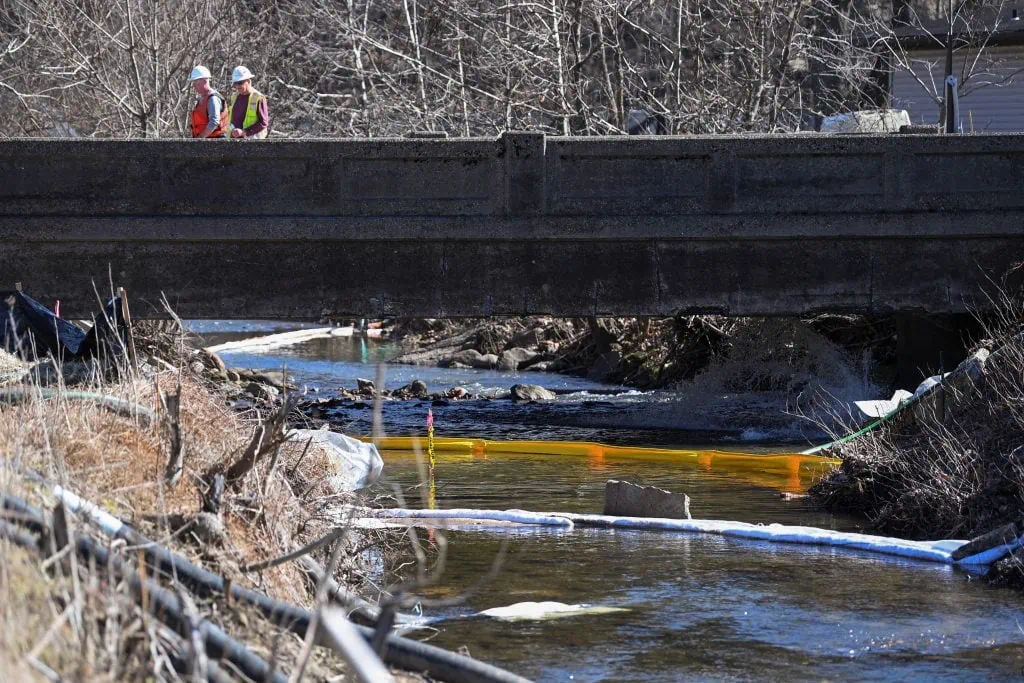 According to a letter from the U.S. Environmental Protection Agency (EPA), the train that derailed was carrying several hazardous chemicals (with names that brought back memories of high school chemistry labs). These substances included:
Vinyl chloride: This flammable gas is used to manufacture Polyvinyl Chloride (PVC) plastic products. Local authorities intentionally released it from five derailed tanker cars to reduce the potential of an explosion. According to the National Cancer Institute, vinyl chloride exposure increases the risk of a rare form of liver cancer and brain and lung cancers, lymphoma, and leukemia. Breathing in small amounts of vinyl chloride can cause dizziness or sleepiness while inhaling high levels can be fatal, says the S. Centers for Disease Control (CDC).
Butyl acrylate: Manufacturers use this fruity-smelling liquid to produce paints, plastics, resins, and automotive coatings. According to the EPA, a tank car carrying the substance spilled or caught fire during the derailment. Exposure to butyl acrylate can irritate the eyes, nose, throat, and lungs, according to the New Jersey Department of Health (NJDOH). Symptoms of exposure include dizziness, headaches, nausea, and vomiting. Repeated exposure can cause lung damage.
Ethylene glycol monobutyl ether: Ethylene glycol monobutyl ether is a colorless liquid used in products like varnish and paint. The EPA is uncertain what happened to the tank car that carried this combustible liquid, but it can irritate the eyes and lungs. Once ignited, its vapors can form explosive mixtures with air, according to the National Oceanic and Atmospheric Administration. The National Institutes of Health says inhaling or ingesting the substance can affect the central nervous system, blood, kidneys, and liver.
Ethylhexyl acrylate: Crew members also released and burned this combustible chemical from one of the tank cars. Ethylhexyl acrylate is an ingredient in plastics and paints. It can irritate the eyes, skin, and lungs in humans, while long-term exposure is "acutely toxic" to fish, according to a safety summary from Arkema, a French chemical manufacturer.
Isobutylene: This highly flammable gas has a sweet gasoline-like odor. It is used to manufacture aviation gasoline, resins, other chemicals, and antioxidants for food, packaging, and plastics. Exposure to isobutylene can irritate the eyes and throat and cause headaches, fatigue, and lightheadedness, according to the NJDOH. Higher levels of exposure can lead to coma and death.
Acrolein: Although not mentioned in the EPA letter, scientists from Texas A&M and Carnegie Mellon University discovered high levels of a chemical called acrolein. Acrolein is used to control plants, algae, rodents, and microorganisms. It is a clear liquid at room temperature, and it is toxic. According to the CDC, exposure to acrolein can cause inflammation and irritation of the skin, respiratory tract, and mucous membranes.
Related: 7 Potential Cancer-Causing Contaminants in Tap Water and How to Remove Them | Manufacturing and Pharmaceutical Contaminants in Drinking water
Is East Palestine's drinking water safe after the train crash?
If you live in East Palestine, Ohio, you may be worried about chemicals from the derailed train contaminating your drinking water. A recent media publication from the Ohio Emergency Management Agency (last updated Mar. 1) revealed that the latest lab results show that the municipal water supply in East Palestine is free of contaminants related to the train derailment.
As things stand:
Contractors took samples from all five wells in the city on Feb. 21 but found no trace of harmful contaminants. The wells are located about 56 feet below the surface and are under solid steel casing designed to protect the water from contamination. Water from these wells is then combined at a treatment plant and treated before flowing into residents' homes.
Ohio EPA also collected samples on the same day and sent them to a separate lab, but is awaiting the test results. You can find the results of the Ohio EPA's monitoring of East Palestine's public drinking water.
The agency also reported that water samples from private water systems in the area continue to show no harmful levels of contaminants.
As of Feb. 28, researchers had sampled 136 private systems. Out of those, they have verified test results from 45 private water systems, and none have shown any harmful contaminant levels related to the derailment.
As of Wednesday, Mar. 1, at noon, the Ohio Department of Health and the Columbiana County Health District have verified 15 additional samples from private well water systems. Thirteen of those wells showed no detectable contaminants, while the remaining two had trace detections well below safe drinking-water standards. You can find the results on the Columbiana County Health Department site.
Officials also say there's a decreased chance of contamination since East Palestine's municipal drinking water is drawn from five wells, all at least 1.4 miles from the derailment site towards the west/northwest. Furthermore, they suggest that the groundwater supplying the wells flows from the northwest. That means any groundwater in the derailment area won't reach the wells because it's in the opposite direction of the groundwater flow.
But despite these favorable findings, experts are concerned that relevant agencies may not be testing for chemicals that could have been made by burning toxic substances. There's also the concern that the spill may cause long-term health effects.
How long will the chemicals linger in water and soil?
Usually, heavier chemicals tend to degrade more slowly and adhere more strongly to the soil. However, some substances, like PFAS—nicknamed "forever chemicals"—have specific properties that keep them from breaking down under typical environmental conditions. If left unaddressed, these compounds can remain in the environment for years, causing long-term health impacts in Ohio. Of course, the extent of the damage will depend on how quickly and thoroughly the cleanup occurs.
Authorities must move quickly to excavate and remove contaminated soils and liquids, especially before the rainy season. The longer this process takes, the greater the risk of contamination. Workers have already begun removing contaminated soil as deep as 7 feet (about 2 meters) near where the rail cars burned.
Booms have been deployed in the nearby stream to help contain the chemicals, while air-stripping devices are being used to remove the chemicals from the waterways. Air stripping is a common treatment technique, and it was previously used after an oil spill in the Yellowstone River near Glendive, Montana, in 2015.
Ohio officials say more than 700 tons of contaminated soil and nearly two million gallons of liquid have been collected from the site. However, there is still much more left to clean up under the supervision of the EPA.
Should I be concerned about chemical byproducts?
When emergency crews burned massive quantities of vinyl chloride and other flammable industrial chemicals, they prevented a potentially deadly explosion. However, this controlled burn created a new potential risk for another group of highly toxic compounds: chemical byproducts.
Independent public health experts believe the water and soil near the derailment site are likely contaminated with dioxins, polycyclic aromatic hydrocarbons (PAHs), and perfluoroalkyl and polyfluoroalkyl substances (PFAS). According to the EPA, other chemical byproducts of concern at the site include phosgene and hydrogen chloride, released when vinyl chloride breaks down.
Despite calls for the EPA to test for dioxins and other hazardous chemical byproducts, the agency has yet to take sufficient action, which critics argue needlessly endangers residents' health. Dioxins are highly toxic and may have formed as the vinyl chloride cargo burned. Studies have linked these compounds to various health problems, including cancer, reproductive and developmental issues, and damage to the immune system and hormones.
Responding to residents' concerns, the EPA said it would require Norfolk Southern to sample directly for dioxins under our oversight and direct the company to conduct immediate cleanup if contaminants from the derailment are found at levels that jeopardize people's health.
Has the release of these toxic chemicals caused people to get sick?
Despite assurances from officials that the air and water quality in East Palestine and surrounding areas are safe, some residents living near the derailment site continue to report multiple health symptoms. These adverse health complications include difficulty breathing, nausea, burning sensation in their eyes and throat, headaches, coughs, rashes, and other classic symptoms of chemical exposure.
Because of this, many residents are seeking independent tests or exploring ways to conduct their own. Unfortunately, health threats can linger long after a chemical spill, as groundwater is an abundant source of fresh water deep below the surface. Also, chemicals can take longer to seep underground and contaminate them.
Once more, very little information is available on the chemicals involved in the accident or those formed due to the fire. The exact amount of these chemicals that went into storm drains, waterways, or settled at the bottom of rivers is unknown. Moreover, the dense black smoke indicated that a considerable amount of particulate matter was released, but how much it spread in the air or settled on the ground is unclear.
What's known is that exposure to toxic chemicals, whether through air or water, can be dangerous, depending on the level and duration of exposure. Vinyl chloride is one such chemical—a known carcinogen. The EPA has set the maximum safe level of vinyl chloride in drinking water at 0, which means there is no known safe amount of it to consume over a lifetime.
What are public utilities doing to address the contamination?
Several utilities in the area affected by the train derailment and those that get their water from the Ohio River are taking extra precautions to ensure their drinking water is safe. They are said to be closely monitoring their water supply for any signs of harmful chemicals or pollution and have backup water sources ready in an emergency. Furthermore, these companies are upgrading their treatment processes and have other options to treat the water if necessary.
Does my water supply contain any of these toxic chemicals?
While municipalities regularly check for vinyl chloride in drinking water, you can send a water sample from your tap to a certified laboratory to test it for this and other industrial and cancer-causing chemicals. ETR Laboratories' Premium Water Test checks for 57 industrial chemicals, including vinyl chloride. Their Ultimate Water Test also examines water for industrial chemicals, Semi-Volatile Organic Compounds (SVOCs), herbicides, and pesticides.
Generally, you are likely safe if you get your water from a public water system—unless leaks or water main breaks along the distribution network introduce potentially dangerous contaminants into the water supply. Utilities in the area are continuously checking their water sources for contamination and are prepared to handle any problems that may arise.
But what about those who rely on private wells for their water supply? The EPA doesn't regulate private wells, so it's up to you to ensure that your well water is safe to drink and use. Private wells may be shallower than municipal wells, making them more susceptible to contamination. As East Palestine health officials advise, you should test the water before drinking or using it.
Residents near the spill site are eligible for free well testing. Visit this website and contact the toxicologists listed for assistance using the contact information provided. But make sure to still keep an eye on news reports for any potential contamination that could reach your well water. Also, the Ohio Department of Health recommends that residents switch to bottled water until it receives test results from private well sampling.
What can I do to remove toxic chemicals from my drinking water supply?
We understand your concern about toxic chemicals from the spill contaminating your water and harming you and your family, which is why we provide helpful information and practical and reliable solutions to protect your household water supply.
Many of the chemicals from the East Palestine spill are volatile, which means you can ingest or inhale them during everyday activities such as cooking, doing dishes, and bathing. With this in mind, we recommend installing a whole-house water filtration system to enjoy clean, chemical-free filtered water for all your household needs.
If you are on city water, we recommend our CF1 Whole House Water Filter System, which uses innovative water filtration technology in a multistage process to remove sediment, chlorine, PFAS, herbicides, pesticides, haloacetic acids, heavy metals, and VOCs.
For those on a private well, our WS1 Whole House Well Water Filter targets and eliminates iron, manganese, sulfur, and other contaminants commonly found in well water. You can also add our optional UV Water Purification System for total home protection against viruses, bacteria, and chlorine-resistant cysts in your drinking water.
We are here to help you choose the ideal filtration system to meet your unique needs and answer any questions or concerns. So, don't hesitate to reach out to us today.
Final Thoughts
The train derailment in East Palestine, Ohio, has deeply affected the community, sparking widespread concern among residents about the safety of their drinking water. The hazardous chemicals released by the derailment can cause severe health complications, such as liver cancer and lung damage, and even be fatal in high doses.
Thankfully, the latest updates indicate that the municipal water supply and some private well systems in East Palestine remain uncontaminated in the aftermath of the incident, providing much-needed relief to residents. However, it is still vital for residents to stay vigilant in safeguarding their drinking water quality. One effective way to do this is to install a whole-house water filtration system to eliminate potentially harmful contaminants in the water entering their homes and businesses.